Central America Cruises 2018 - 2019
Central America Cruises will take you to an incredibly diverse region of indigenous cultures, rainforests and ancient Mayan ruins.
Mexico
Mexico cruises are the ultimate way to escape the daily grind. Glittering turquoise waters, swaying palm trees and soft sandy beaches await you on board your dream cruise vacation to Mexico. Treat yourself to delectable cuisine, immerse yourself in charming local cultures and Mexican traditions, and take a step back in time as you discover some of the world's most ancient Mayan sites.

Cruise to Mexico to indulge in some fabulous retail therapy and shop til' you drop both on board and at glamorous cruise destinations such as Cozumel, Cabo San Lucas, and Puerto Vallarta. Embark on the cruise vacation of a lifetime to Mexico from Galveston, New Orleans or Tampa on board Carnival Cruise Line, Royal Caribbean and Norwegian Cruise Line.
show more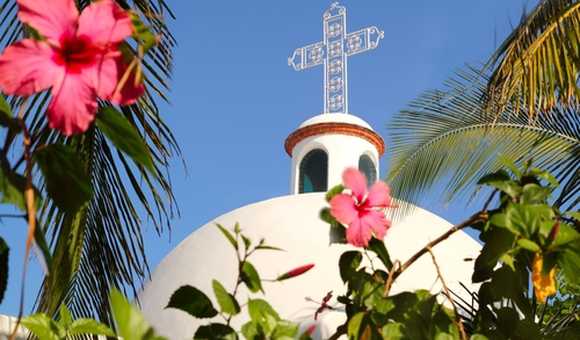 Mexico
Central America Cruises
Lying between two larger continents and surrounded by the Pacific and Atlantic Oceans, Central America is a wondrous belt of islands and lands bursting with rainforests, tropical beaches, lava-spewing volcanoes. Central America boasts year-round sunshine and is becoming one of the most popular regions for cruisers. This precious region offers paradisiacal, white sand beaches and turquoise waters, and promises to be an experience filled with sunshine, culture and history. Discover vibrant cultural meccas and cities with a rich colonial past!
Belize City, Belize
Belize is arguably the most overlooked country in Central America by tourists. Belize ramshackle colonial streets are alive with vivid characters who represent every facet of its ethnic makeup, especially the Creoles. Belize has the second largest barrier reef in the world, so for anyone who loves swimming among tropical fishes and other exotic marine wildlife, snorkeling in Belize is a must! From scuba diving its warm and turquoise-colored Caribbean waters and a gigantic blue hole to hiking an ancient Maya village, Belize city has something for everyone.
Cruises to Cozumel, Mexico
Cozumel has become one of the top travel destinations in the world because of its spectacular and intriguing attractions like diving along the shallow reefs, hiking through the Punta Sur Ecological Park or exploring what the Mayans left behind at the San Gervasio ruins. Cruise passengers use the island as a hub for Mexico's spectacular attractions, including marine-life encounters like the baby sea turtle hatching, botanical gardens and ruins. If you are looking to escape to a stress-free and sunny place that offers a great mix of adventure and fun-filled activities, then you might want to consider Cozumel, Mexico. Book Now Book online or call our experts for all the best deals on Central America Cruises. For other great international destinations why not have a look in
Europe
or
the Caribbean
. All cruises can be found on our homepage. If you're after a
cheap
or
last minute cruise
, then have a search through each page for the
best deals
.