You're already thinking about next year's vacation and there's no doubt in your mind: it's going to be a cruise!
But when is the best time to book a cruise? Six months or more in advance, to take advantage of early-bird rates and good availability? Or is it best to hold out and wait for a last-minute discount?
The best time to book a cruise depends on your particular preferences and needs. Booking windows and seasons, bank holidays and school breaks, and the type of stateroom you'll need are all aspects that play a role in when you should book.
We've compiled a list of tips for you to help you find the optimal time to book your next cruise.
Early-bird discounts
Remember what they say: the early bird gets the worm. If you book early, you may be able to take advantage of special early-booking rates. The cheapest rates are usually available right when booking opens up – up to two years before departure – and are only available for a limited time. If you miss the boat, you'll be paying standard fares like everyone else.
Book early for the best stateroom selection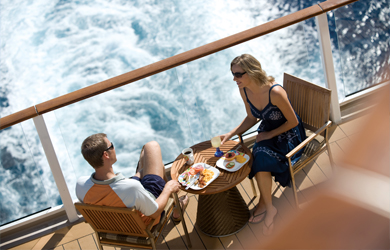 There are other benefits to booking early too besides just saving money. If you'll be traveling as a family, as a group, or cruising solo, then it's best to start thinking about your stateroom selection early. The earlier you book, the greater the availability of different stateroom categories will be. The longer you wait, the more likely it is that the cabin you choose is sold out.
Most staterooms on a cruise ship are ideal for couples or groups of up to three or four. However, there are other stateroom configurations suitable for groups of different sizes. Studio staterooms are one-person cabins that are only available for solo travelers, only available on certain ships. Connecting staterooms are two staterooms next to each other connected by a door – perfect for families if they want to be close to their children, but not sleep in the same room. And some types of suites have multiple bedrooms or extra bedding, and can accommodate as many as six or eight people – perfect for large families or groups. All of these staterooms are in limited supply and high demand, so it's best to book early to be sure to get the stateroom you want – especially if you'll be traveling in peak season.
Our cruise experts recommend:
Higher-level suites are popular and fill up quickly. If you're determined to stay in an Owner's Suite during your cruise, book early, or it may be sold out!
Cruisers who are interested in special voyages like world cruises, maiden voyages, or event cruises will also want to book early. These popular cruise categories are also likely to sell out!
Special needs onboard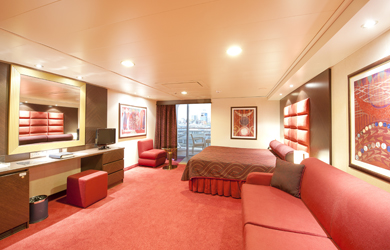 People with limited mobility, chronic illnesses, and even dialysis patients are all welcome on a cruise ship. Cruising can be a low-stress way for people with special needs to enjoy a relaxing vacation. It's just important to make sure in advance that the cruise line can accommodate your needs.
Today, nearly every ship at sea has at least a few wheelchair-accessible staterooms. The number, however, will vary from ship to ship, and they often sell out quickly. If you'll be needing an accessible stateroom or special care during your cruise, it's also a good idea to book far in advance, and let your travel agent as well as the cruise line know about your individual needs.
Cruising in high season
Most people want to go on vacation in summer, when the thought of warm temperatures and tanning by the pool helps them get through the dreary winter months. If you've had the same thought, you're not alone – the demand for cruising is highest in summer. If you cruise during this time, you'll be competing with increased passengers demand, and may have to make some compromises on your preferred itinerary, ship, or stateroom if you wait too long to book.
Dreamlines recommends:
"If you want to cruise during summer, it's best to book at least half a year in advance. Only then will you have the best chance at finding your dream cruise."
School breaks – the best time for families to cruise
If you're planning on traveling over the school holidays, remember that you're not the only one. School-age children are on winter break, so the demand for family cruises during this time is particularly high. The most popular times for families to cruise is summer break and the winter holidays, so you'll have to reckon with higher price tags and early planning if you want to go on a Christmas cruise or a New Year's cruise. It's unlikely that you'll find any last-minute availability on these in-demand cruises, so if you want to go on a holiday cruise, book early, book early, book early!
Another popular time for families to cruise is over Easter and Spring Break. As the mercury in the thermometer climbs, so too does most people's excitement for travel. By booking early, you'll secure not only the best rates, but have the best selection of connecting and group staterooms.
Another thing to keep in mind: On holidays and school breaks, there are lots of children on board. As children's services are first-come, first-serve, they might not be available anymore if you book too late.
Last-minute deals are possible, but flexibility is limited
But what if you want to book a cruise at the last minute? It's always possible that you'll find a great deal on the perfect cruise departing soon. Some cruise lines even offer discounts on last-minute cruises, giving away their unsold cabins at rock-bottom prices.  It's important to note that, for cruise lines, last-minute is generally between 4-8 weeks prior to sailing date, not the last week or two before departure in most cases.  And no matter what your friend told you, it's no longer possible to show up at the pier without a reservation, suitcase in hand, and get on a ship.
If you need to fly to your cruise, don't forget that last-minute airfares are often much higher priced. If you're going on a one-way cruise, such as a transatlantic or a repositioning cruise, you'll need to book a flight as well, so don't forget to factor that into your decision.
Last-minute discounts are more likely in low season
During high season, demand is so high, you'll rarely find a last-minute discount. Ships tend to be booked to capacity, and you'll be pressed to find an available cabin if you wait too long. But it's a much different story in the low season. Here, there's a much better chance you'll be able to snag a last-minute deal. Just keep in mind that your preferred travel dates, your favorite ship, or your dream cabin may not be available. You'll also be traveling in the off season, so you may have to content with cool weather in the Mediterranean or hurricanes in the Caribbean. But if you're a flexible cruiser and don't mind compromising on some of these things, then it may just be worth it to hold out for a last-minute deal.
When is it worth waiting for a last-minute cruise?
If you:
Live close to a port and don't need to book airfare
Have a flexible work schedule or are retired, so you can take a vacation on short notice
Are open to traveling off-season and don't mind cooler temperatures
Aren't picky about your stateroom selection and don't mind where you're located on the ship
Don't have limited mobility or other special needs
Then it might be worth holding out for a last-minute discount. But if one or more of these factors doesn't apply to you, it's best to book in advance, so you can be sure to secure the cruise of your dreams.
Best time to book a cruise
So when is the best time to book a cruise? Dreamlines recommends booking at least six months in advance, especially if you're traveling during high season or will need airfare. The best time to book an Alaska cruise is October through March, and the best time to book a cruise to Europe is November through March – at least two but preferably six months before departure. For year-round destinations such as the Caribbean and Hawaii, there is no one best time to book – just aim for four to six months in advance if you'll be driving to the port, and six to eight months if you'll be flying.
What are you waiting for? Call 1-888-403-1425 and book your cruise today!