The U.S. government announced abruptly last Tuesday that it would stop certain types of travel to Cuba – including cruises.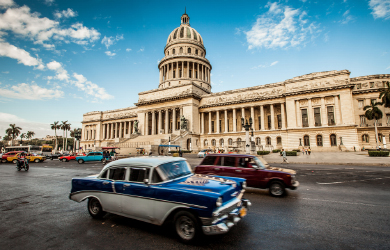 Cruises to Cuba, which used to qualify for a "people to people" travel visa to promote cultural exchange, have been halted. Cruise lines are working hard to re-route ships, plan new itineraries, and provide passengers compensation.
"It's unfortunate to see the U.S. government taking such actions to restrict people's ability to travel," said Steven Hattem, Managing Director of Dreamlines. "While we certainly understand our passengers' frustration, it's important to understand that it's not the cruise lines' fault. Cruise lines are scrambling to find ways to comply with the new regulations while at the same time accommodating passengers' needs."
While there was some speculation that cruises to Cuba may still be able to sail under the rule which allowed trips booked before June 5 to be "grandfathered" in, a separate clause explicitly named cruise ships as an unacceptable method of travel to Cuba. All U.S. cruise travel to Cuba has been halted until further notice.
So what to do if you booked a cruise to Cuba?
If you booked a cruise to Cuba, you have a choice: you can accept the alternative route, book a different cruise, or cancel your trip.
Dreamlines recommends sticking with the alternative cruise itinerary. While Cuba is a one-of-a-kind destinations with unique culture, history, and people, there are many other wonderful destinations in the Caribbean just waiting to be explored. You might have the opportunity to see Mayan ruins in Mexico, experience world-class snorkeling in the Bahamas, or just spend another day at sea, enjoying all the entertainment and dining the ship has to offer. While it may not be the vacation you had planned, you're still guaranteed to have a good time.
Maybe you've already seen the main ports in the Caribbean and you booked a Cuba cruise because you wanted to experience something new. If you can't be tempted by an alternative route to the Bahamas or Mexico, why not knock a different destination off your bucket list? By changing your booking rather than canceling, you won't lose your non-refundable deposit, and you can apply the payments you've already made to your new cruise. Perhaps you've always dreamed of cruising to Hawaii, or you'd like to experience South America? Or maybe you've always wanted to traverse the Panama Canal? Dreamlines can help you change your booking so can still experience a memorable cruise vacation.
Finally, if you choose to cancel your booking, you may be entitled to a full or partial refund by the cruise line. If you booked your Cuba cruise with Dreamlines, call our cruise experts at 1-888-403-1425 to find out what your new cruise itinerary is and what compensation you are entitled to.
What if I still want to go to Cuba?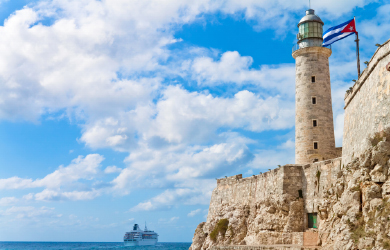 While U.S. citizens may no longer travel to Cuba by cruise ship, there are still ways to visit Cuba. Consider booking a land-based vacation that falls under the "support for the Cuban people" visa, rather than the "people to people" visa. This option allows travelers to visit Cuba on the condition that they meet with local business owners or artists, and that they stay in a private home rather than a hotel. Dreamlines can refer you to a travel agency which can help you plan your trip to Cuba.
Cruise Lines' Cuba Policies
Several cruise lines have already announced the changes they will be making in order to comply with the new rules.
Carnival Cruise Line Cruises to Cuba
Carnival Cruise Line will substitute Havana on its 2019 itineraries with alternative Caribbean ports. In addition, guests are eligible for $100 onboard credit if they remain on the planned itinerary, $50 onboard credit if they switch to a different Carnival itinerary, and a full refund if they cancel their booking.
Royal Caribbean Cuba Cruises
Two Royal Caribbean cruise ships, Majesty of the Seas and Empress of the Seas, were scheduled to cruise to Cuba in 2019. These ships will now call at alternative ports for the duration of 2019, and 2020 itineraries are still in the works.
Royal Caribbean is offering passengers a full refund for passengers who booked a 2019 cruise to Cuba if they decide to cancel their booking, and a 50% refund if they stick with their planned sail date and cruise the alternative route.
Norwegian Cruise Line cruises to Cuba
Norwegian Sky and Norwegian Sun cruises going to Cuba through September 1, 2019 have been redirected to alternative ports. Guests who booked a cruise to Cuba during this time are being offered a 50% refund and an additional 50% Future Cruise Credit for future sailings.
Cruises that were scheduled to go to Cuba after September 2, 2019 have been canceled, and guests will receive a 20% Discount Coupon to use on future Norwegian Cruise Line cruises.
MSC Cruises Cuba Policy
The MSC Armonia itinerary from Miami to Cuba has been updated. Calls in Havana will be replaced by Key West, Costa Maya, Grand Cayman, or Cozumel. Passengers who booked a cruise to Cuba will be able to switch to an alternative itinerary with no cancellation fees and funds already paid transferred over free of cost. Passengers who stick to the original sail date with the modified itinerary will receive $400 onboard credit in compensation, with any unspent amount refunded at the end of the cruise.
Since the government policy only affects U.S. citizens, MSC cruises to Cuba departing from non-U.S. ports will remain the same.
Holland America Line Cuba Cruises
Holland America Line's ship Veendam was scheduled to begin cruising to Cuba starting in October 2019. Cruises scheduled to go to Cuba will now visit Grand Turk, San Juan and St. Thomas instead.
Seabourn Cruises to Cuba
Seabourn cruises scheduled to call at Cuba will be rerouted to alternative ports. Seabourn will provide additional information regarding the itinerary changes and passenger compensation to its passengers directly.