Writer, designer, publisher, chef, TV personality, stockbroker, celebrity: Is there anything Martha Stewart can't do?
Apparently not. The home and lifestyle guru is delving into the world of travel to bring cruisers unique vacation experiences in a new partnership with MSC Cruises, the company announced last week.
"I've always enjoyed introducing people to new experiences," said Stewart. "I'm thrilled to be working with MSC Cruises on a partnership that embodies the true celebratory nature of travel, exploration, and discovery."
Select Caribbean sailings will feature a trio of signature experiences and gifts to bring a little taste of Martha into your vacation. These will include exclusive shore excursions, personalized gifts, and holiday dining experiences. These amenities reflect the theme of the partnership: Celebrate, Discover, Experience.
"MSC Cruises is committed to developing enriching guest experiences," said Gianni Onorato, CEO of MSC Cruises. "As such, we partner with world-class experts in their field to create something truly unique together."
Discover the Caribbean in a new light: Martha Stewart shore excursions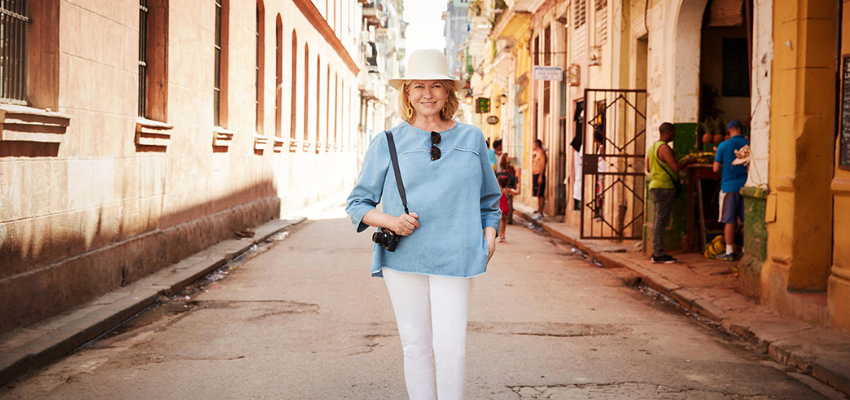 You probably knew Martha Stewart was a skilled homemaker, but did you know she's also an avid traveler? Now, Martha has dedicated herself to making incredible travel experiences accessible to all in the form of nine one-of-a-kind shore excursions on various Caribbean islands.
"The excursions showcase some of my favorite activities," said Stewart. "They help MSC Cruises' guests discover some of the authentic and hidden treasures of destinations throughout the Caribbean."
Whether you're passionate about discovering the local flavors, hiking along stunning waterfalls, or learning to make the perfect margarita, there's something for everyone on these unique onshore experiences. Brave guests may even choose to take the plunge and ride on the famous swimming horses of the Cayman Islands – a personal favorite of Martha herself!
Martha Stewart Celebration Surprises: gifts for every occasion
Birthdays, honeymoons, anniversaries – what better way to celebrate a major milestone than on a cruise with the person you care about most? And now, you can make your special occasion even more memorable with a Martha Stewart Celebration Surprise. These unique gifts are sure to add a thoughtful touch to your celebration for an even more unforgettable vacation. And starting at just $10, they don't have to break the bank!
To add a bit of sweetness to your special occasion, opt for a Martha Stewart Delightful Surprise, in which you'll receive chocolate cookies, a recipe card, and a personalized letter from Martha Stewart herself. To make the occasion even more unforgettable, select the Martha Stewart Sweet Delight & Cheers, in which you'll receive an even more delectable dessert as well as a bottle of wine hand-selected by Martha – in addition to a recipe card and letter. And for those extra-special moments, you can book a Martha Stewart Sensational Celebration, which includes a free photo taken by the ship's photographer, a 5×7 picture frame, and a canvas beach bag – in addition to all of the other gifts. What better way to show that special someone you care than with a thoughtful, Martha Stewart themed gift?
Experience a meal by Martha Stewart for the holidays
What Martha Stewart experience would be complete without a taste of her renowned cooking? Starting this Thanksgiving, Martha Stewart will be creating delectable three-course holiday dinners to be served in the main dining room and MSC Yacht Club. Enjoy the flavors of a home-cooked meal on your holiday away from home – with none of the cooking or the clean up! These menus will be available for Thanksgiving, Christmas, Hanukkah, New Year's, and Easter.
Martha Stewart cruises: for an ultra-memorable vacation experience
 If you've ever wanted a little more Martha in your life, this is your chance! Go on a one-of-a-kind vacation with personal touches from your favorite lifestyle icon.
"Martha Stewart's philosophy and passion for discovery is a perfect match for MSC Cruises," said Onorato. "We are excited to bring her innovation, style, and expertise to life in this special partnership."
To take advantage of these experiences, call our cruise experts at 1-888-403-1425 and book a select Caribbean cruise with MSC Seaside or MSC Armonia.