After being built for the Chinese cruise market in 2017, Norwegian Joy underwent a $51 million renovation to prepare her for a new destination: the West Coast, Alaska, and the Mexican Riviera. She began her inaugural Alaska season this spring, departing from Seattle on May 4, 2019, and will sail south starting in the fall.
Dreamlines cruise expert Bernadette Holmes was lucky enough to sail with the Joy on her inaugural cruise. Read on to find out what's new on Norwegian Cruise Line's second Breakaway-Plus ship – and what makes her the ultimate Alaska ship.
More onboard activities than ever before
Whereas traditional Alaska ships tend to be low-key, the Norwegian Joy is all about fun. Along with her sister ship, Norwegian Bliss, the Joy boasts an array of action-packed activities that will be a hit with the young as well as the young at heart.
The star of the show is by far the Speedway racetrack, a two-level, open air go-kart track on the top of the ship. Drivers can enjoy the full experience of being on a racetrack as they zip around the curves, passing other drivers, as the sounds of an engine revving are played on speakers near their ears. This feature is a first of its kind – only Norwegian would dream up a racetrack at sea!
While go-kart drivers are discouraged from bumping other drivers, those who are particularly accident-prone may want to head down a few decks for bumper cars. Some other adrenaline-pumping activities include an outdoor Laser Tag arena, a Virtual Reality experience at Galaxy Pavilion, and an immersive video game experience called Dark Ride 7D.
A redesigned pool deck – less pool, more deck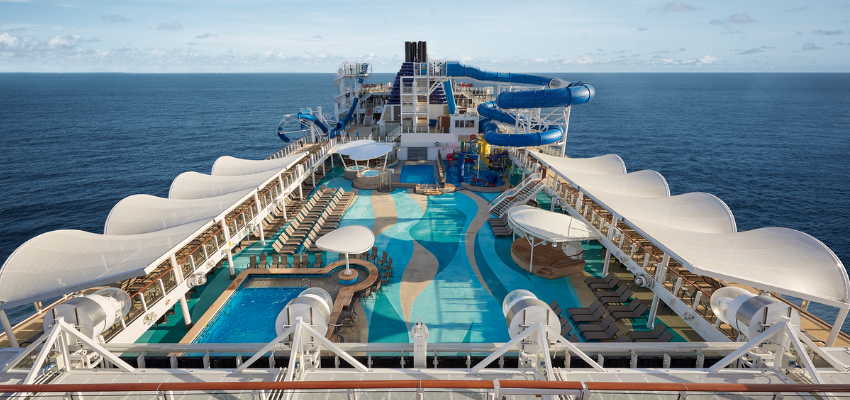 Norwegian Joy originally featured a large garden area on the top deck. During refurbishment, this was replaced by a spacious, expanded pool deck – the perfect place to take in the wild Alaskan scenery, or for the kids to run around and play. You won't miss the extra pool space on cool Alaska itineraries, and on warm weather cruises, it's the perfect place to lay out on a deck chair and catch a tan.
Fewer casinos mean more restaurants, bars, and lounges
When the ship was originally built for Asian cruise passengers, Norwegian Joy boasted four large casinos throughout the ship. Now, there is just one casino, located on Deck 7, making room for more dining areas.
Norwegian Cruise Line pioneered "Anytime Dining," where passengers choose when and where they eat without sticking to a set schedule. Now, passengers have even more freedom of choice when it comes to where they eat: The ship has three main dining rooms, a 24-hour pub and grill, and nine specialty dining restaurants throughout the ship. Guests can look forward to classic French, Italian, or steakhouse cuisine, as well as some exotic favorites: Texas barbecue, Japanese Teppanyaki, and a Spanish/Asian fusion experience, Food Republic.
Next-level relaxation at "The Haven" VIP area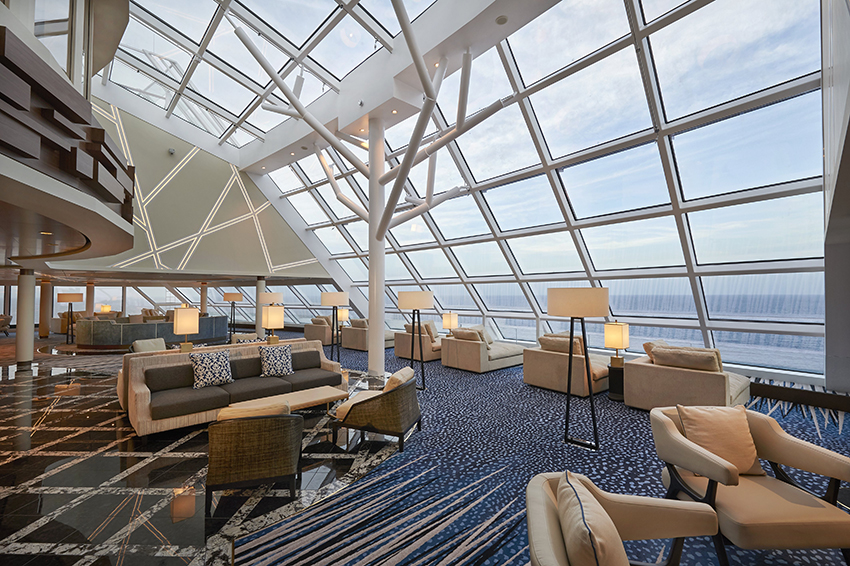 What Norwegian ship would be complete without The Haven, a luxurious, ship-within-a-ship area for the most discerning of guests? This exclusive space is only accessible to guests who book a Haven suite, and features a private sundeck, lounge, restaurant, and concierge service. Haven Suites also come with 24-hour butler service!
What's more, this Haven area was built specifically with Alaska in mind. Guests can experience stunning 180-degree views from the new, two-story lounge, located on Deck 17. The wall-to-wall, floor-to-ceiling windows allow guests to take in the breathtaking views without braving the cold. And a casino has been replaced by a library, giving Haven guests a quiet oasis to escape the more high-energy areas of the ship.
Get your sea legs and head to The Waterfront
The Waterfront is a quarter-mile oceanfront promenade wrapping around the ship. It's the perfect way to get a breath of fresh air while enjoying the perfect cone of ice cream at Dolce Gelato, or a fantastic cocktail at the Sugarcane Mojito Bar. For those who prefer to do their dining (or drinking!) al fresco, The Waterfront promenade is the place to be.
Footloose, the Musical: Feel-good entertainment onboard the Norwegian Joy
For the first time at sea, guests will be able to experience the spectacular, Tony Award® nominated musical Footloose! In this heartwarming tale, a Chicago teen moves to a small town where dancing and rock music has been banned. With the help of a talented cast of characters and some stunning choreography, he takes it upon himself to loosen up this conservative Midwestern town. This is a high-energy show where dancing takes center stage – a must-see for any Norwegian Joy cruise guest!
Norwegian Joy: the ultimate Alaska ship
What sets the Norwegian Joy apart from other Alaska ships is its high-energy atmosphere and diversity of activities onboard. Whether you're looking for the ultimate Alaska family vacation, a sunny Mexican getaway, or a relaxing, luxurious retreat, you'll find what you're looking for with Norwegian Joy.
Want to learn more about Norwegian Joy? Read more or search cruises here!