After a massive revamp to the tune of $250 million, Royal Caribbean's private island is open for business.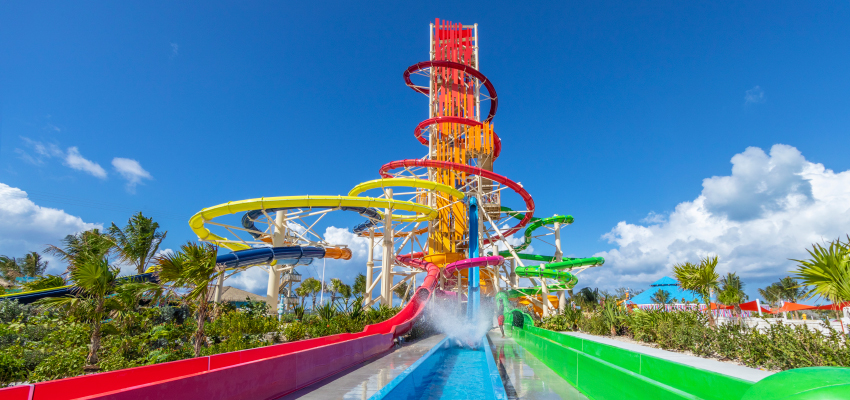 Perfect Day at CocoCay, an island in the Bahamas available exclusively for Royal Caribbean cruise guests, has been transformed into a nine-acre water park devoted to the ultimate day full of thrills and chills. With more attractions and more opportunities to relax than ever before, there's never a dull moment on this island paradise – unless you want there to be, of course. The revamped cruise port has eliminated the need to tender, making it even more convenient to get on and off the island. And the new eateries, new attractions, and new waterslides are just begging to be tried!
Read on to find out eight things you can only do at CocoCay that you won't find anywhere else.
Go on the tallest water slide in North America
There are 13 different water slides at CocoCay's Thrill Waterpark. Daredevil's Peak stands head-and-shoulders above the rest. Climb to the top of Daredevil's Tower and take the plunge 135 feet to the ground below. If you don't dare to go all the way to the top, there are seven more high-speed slides descending from the tower to choose from. Brave souls and thrill-seekers won't want to miss racing down the Dueling Demons, spiraling down the Green Mamba, or taking the fully-vertical drop down the Screeching Serpent.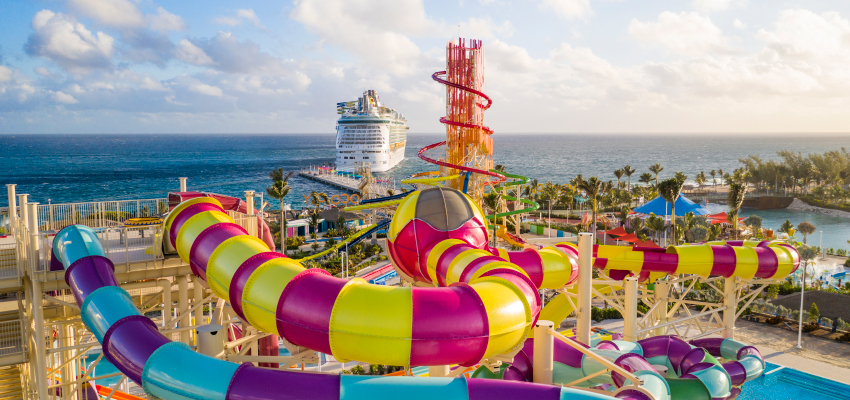 For those who prefer to share the adventure, the Family Tower offers six different types of group slides. Defy gravity on a wild ride on The Slingshot, or race against your best friends on the Splash Speedway racing slides. At the Thrill Waterpark, you're in for a nonstop adrenaline rush!
Enjoy the perfect view – from 450 feet above the ground
Book a ride on the Up, Up and Away helium balloon for your chance to soar high above the island of CocoCay. You'll be treated to a sweeping panoramic view of the ship, the island, and the sea. Guests of all ages will love the chance to see this island paradise from above, watching as the colorful umbrellas fade away into tiny dots.
Get your feet wet at the ultimate pool party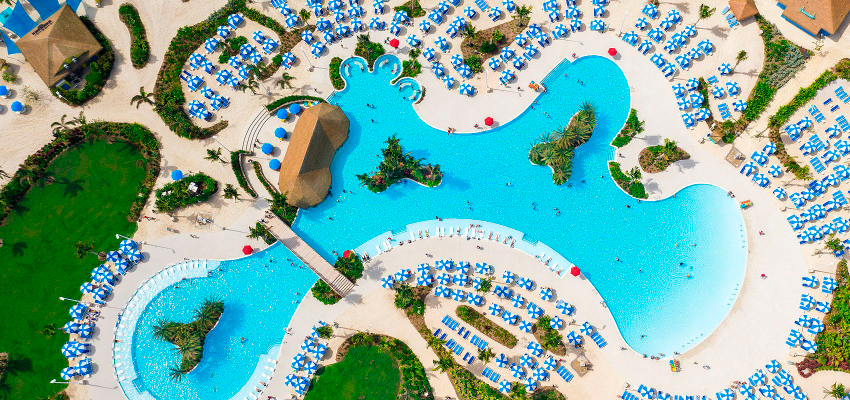 The Oasis Lagoon is the perfect place for kids and grown-ups alike to enjoy a relaxing soak. The largest freshwater pool in the Caribbean, the Oasis Lagoon is the place to be. Kids will love the swim-up islands and hidden coves, and adults will love the swim-up bar with its signature cocktail: the Coco Loco, served inside a real coconut. If you'd prefer to enjoy your drink without getting your feet wet, you can rent a cabana and enjoy all-day attendant service. Lounge in a day bed and let your worries drift away, or befriend your fellow party people as you splash around the pool. What better way to spend a day?
Wave goodbye to boring beaches: Experience biggest wave pool in the Caribbean
Another attraction at Thrill Waterpark, the wave pool is even bigger and better than ever. Wade in the surf or jump on in for some seriously next-level fun. Or maybe you'd rather watch the action than be in the middle of it? Grab an umbrella and a lounge chair and make yourself at home. The choice is yours!
Eat your heart out
Even though you're on land, it's like you've never stepped off the ship. Nearly all of the dining venues at CocoCay are completely free for Royal Caribbean guests. Fill up on hot dogs, burgers, and fries at one of three Snack Shacks throughout the island, enjoy tasty tacos at the Chill Grill, or fill up on epic barbecue creations at Skipper's Grill.
The only a la carte dining area is Captain Jack's restaurant. With live music, crispy fries, and all-around good vibes, Captain Jack's is totally worth the few extra bucks – so why not splurge a little? And for health-conscious passengers or people with special dietary restrictions, vegetarian and gluten-free food is also available on the island.
Get soaked at the biggest-ever Splashaway Bay
This water park of epic proportions is a dream come true for your little mermaid – or merman. Little ones can go to town with more water cannons, water slides, and drench buckets than ever before. Can you think of a better way to beat the heat? Water lovers will also love swimming in Oasis Lagoon, the largest freshwater pool in the Caribbean, or splashing around the Adventure Pool, an aquatic obstacle course where you won't be afraid to get your feet wet!
Take the zip line for a splash landing
If you're feeling brave, take the zip line 1,600 feet across the island for the ultimate adrenaline rush. You can choose whether you'd like to land on dry land, or make a splash and land in the water.
Do nothing at all
Finally, if your idea of the perfect day is to just lay around and do nothing at all, there's a spot for you, too: Chill Island, the ultimate oasis of relaxation. Grab your towel and umbrella, order a Coco Loco, and enjoy your little piece of paradise by the sea. Rent a daybed, a clamshell chair, or a private cabana for the ultimate relaxing getaway. And if all that relaxing is too much hard work, you can rent a jet ski or some snorkel gear and make some waves!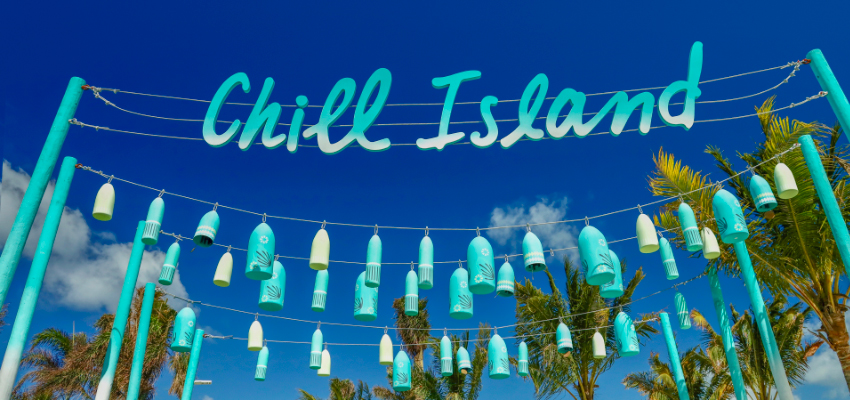 That's not all you have to look forward to. Starting in December 2019, Bora Bora-style overwater cabanas, South Beach, and the exclusive Coco Beach Club will be added to the island's list of attractions. Watch this space for more updates as they come out!
Ready to book your next adventure? Call Dreamlines at 1-888-403-1425 for a free consultation, or search CocoCay cruises today!